BackTo


Updated 4/12/2021

Due to our current circumstances, we are not accepting any new work beyond what is currently in house.

To our customers whose instruments are still in house - please be patient with us.
We are working as diligently and quickly as we can to complete the work promised on your instruments.
We will continue to operate on an appointment-only basis. However, until further notice,
we will only be making appointments for completed instrument pickup and courtesy period adjustments.

Please visit our the contact page for information and updates regarding our current situation.


Prior Updates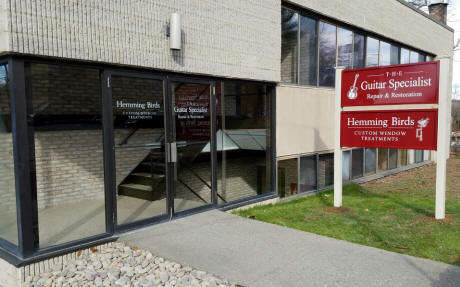 We have finally posted pictures of the new shop! Check them out here!

TAKE A PICTURE TOUR OF THE NEW SHOP

Customer Testimonials - See What people are saying about Us!
Witness a Martin Neck Reset From Start To Finish
An Old Gibson Gets a New Custom Bridge
New Links Added

About us page updated
Come and meet the newest member of our staff - About us page updated
We've Expanded The Shop! Come see what we've done with the place.
Come and meet the staff - About us page updated
Paul Simon Has his guitars repaired at The Guitar Specialist !
Paul Simon's Guitars Being Repaired in the Repair Gallery
It's been a while - I know.
We cleaned up the overall look and navigation of the site
and added some content
Finally !! Pictures Of The New Shop
Contact Page updated with hours and directions
Please Make note of our new Address
Pictures Of The New Shop are Coming Soon!


E-Mail Us


380 Adams Street
Bedford Hills, NY 10507

(914) 401-9052



This GIF doesn't do anything
I just thought it was really cute

© Copyright 1998 - 2019 and beyond
The Guitar Specialist, Inc. ® All Rights Reserved