A Personal Note From Doug Proper
I have owned and operated "The Guitar Specialist" since 1986 after inheriting it from my first teacher and mentor, Charles Lavern - a master of everything having to do with guitars. He retired to Florida and bestowed upon me the gift of his legacy. Among all of the things he has taught me, one thing reaches above all else - his love for the guitar. He displayed a passion for this wonderful instrument that could compete with no other passion I have ever encountered. I endeavor to carry that passion of his through everything I do with guitars today. Since his retirement we have spoken often, but have lost touch over the years - I pray he is well and still with us - and if he has passed, may he hear beautiful music for all eternity. I owe more to him than all of my life experience and any amount of money could repay. - Bless you Mr. Laverne, I remain, Musically Yours.

As a guitarist & luthier I have always prided myself in carrying on the tradition and principles of the man who bestowed upon me his love for musical instruments and the career I now have engaged in for over 20 years. I try to treat each customer and instrument as if my business depended on them - and it does. I have been fortunate to know and work with so many great musicians - famous or otherwise. At "The Guitar Specialist", we strive to provide the best service and the best playing instruments you could ever hold, play and cherish.

We use a combination of modern and old world techniques and do almost everything in the shop with the attitude that handcrafted is always better. I have concentrated my efforts on developing my skills and a working knowledge of musical instruments for more than two decades to provide our customers with a service that is unequalled.

As we continue to grow, it becomes impossible for me to do every task on every guitar. There was a time that I was the only luthier in the shop. Then there was Sharon and I working together. Soon it became clear that we would need help to keep up with the demand for our services. Initially I was very hesitant to employ others in the fear that the quality of the service we offer would suffer as we grew and had to depend on others. I have been fortunate to have the people who are working with us join our team. Each of them treat our business like it is theirs. They invest every fiber of their being in the success and excellence we strive for every day at The Guitar Specialist. I invite to you find out more about us - don't hesitate to call, e-mail or write us. After all, it is our customers to whom we owe all of our success and the ability to further our knowledge & skills

- Doug Proper, President - The Guitar Specialist, Inc.
Doug Proper - Chief Luthier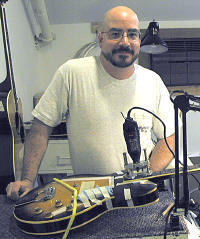 Actually, Doug prefers the term Luthier-in-Chief and likes to have the entire staff humming "Hail To the Chief" while he strides from bench to bench.
He handles most of the restoration work in the shop, does all the neck resets, all of the fret installations and crowning, most all of the touch up, french polishing and finishing work, inlay work, some structural work - bridges and braces, broken peg heads, binding work, some of the more complicated electrical work and parts fabrication. He personally oversees all of the work being done in the shop and he answers your emails when he has some spare time. - Now you know why he shaved his head.
With over twenty years of experience in lutherie, he has held certifications from the following guitar manufacturers: Taylor Guitars, Gibson - "A Level", Fender - Gold Level, C.F. Martin, Gretsch, Guild - Gold Level, Ovation, Hamer USA, Ibanez, American Archtop, Takamine, Santa Cruz, Epiphone, Charvel, Jackson and Tacoma. Please contact us to determine which manufacturers we currently work with for warranty service.
He is also an authorized retrofitter for the Buzz Feiten tuning system. He is a lifetime member of the Association of Stringed Instrument Artisans and a member of the Guild of American Luthiers.

She s responsible for almost all of the structural work going on in the shop. Bridge re-glues and replacements, loose and cracked braces, bridge plate repair, top-back and side cracks, cleats, some light finishing and touch up work, removes fingerboard extensions as a prep for neck resets, some parts fabrication and is still trying to break the worlds record for seeing how many clamps she can fit in a guitar at the same time.

Sharon also serves as our shop manager, determining due dates and scheduling work order progress and makes sure we all update our work orders as we complete our tasks. Oh - and let's not forget - she makes sure Lester's litter box is clean - arguably her most important task.
Sharon holds certifications from the following guitar manufacturers: Gibson - "A Level", Fender - Silver Level, Gretsch, Guild - Silver Level, Ovation, Hamer USA, Takamine, Epiphone, Charvel, Jackson, Tacoma.
She is a lifetime member of the Association of Stringed Instrument Artisans and a member of the Guild of American Luthiers.
Sharon Proper - Staff Luthier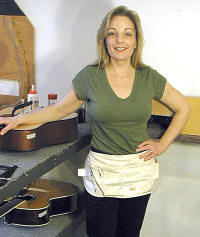 Bob is our receptionist.

Bob's chief responsibility is to greet customers at the door, guitar in hand and entertain them in case they have to wait. So far we haven't heard him play a tune yet - although he insists that he is quite the proficient guitarist.

Usually a receptionists job included answering phones, taking messages, dealing with deliveries and running errands. We tried to get Bob to take on some of these responsibilities, but he'll have none of it. I assume his silence on the subject means he's quite happy with his current job description.

Since the taking of this picture, Bob has somehow seemed to loose his hat. We are currently searching for a suitable replacement.
Bob - Receptionist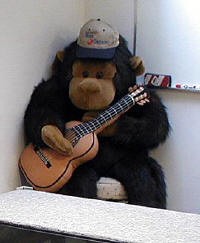 Lester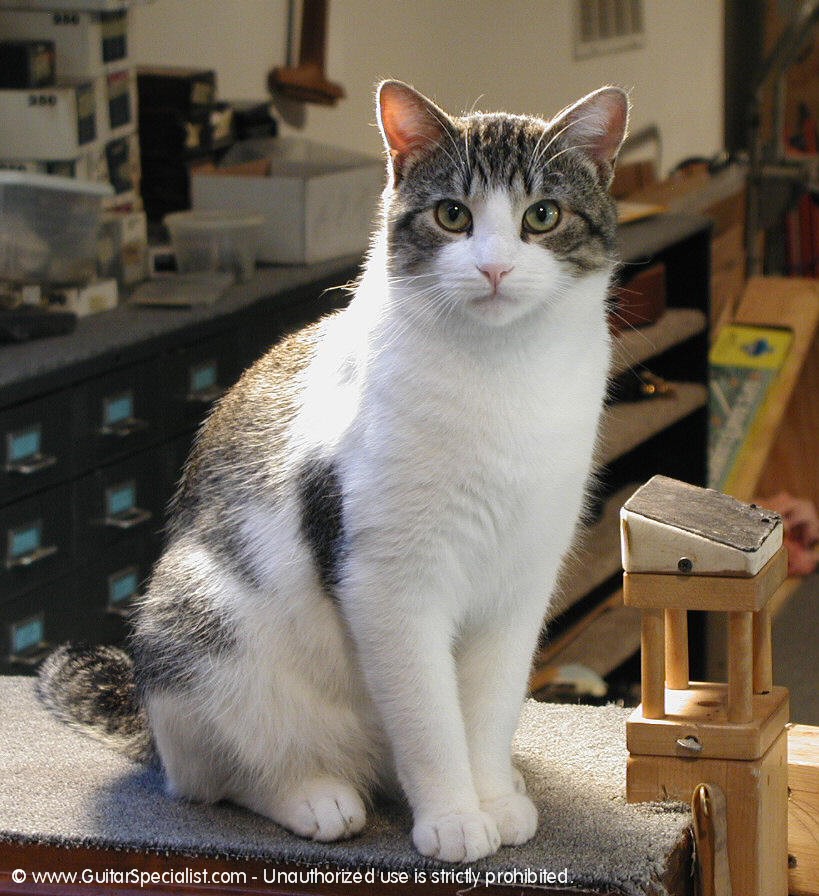 Lester is - well, he's just Lester - and he does it quite well thank you very much. We found Lester as an abandoned kitten. Of course we took him in. Since the positions of our former shop cats were vacant due to their retirement to a life of luxury at home, we hired him immediately.

Lester makes sure we all get a chance to play a little bit every day. He reminds us when it's lunch time - lest we forget, and makes sure that any idle moments are interrupted by a nip at our heels. His primary function at the shop is to be just so darn cute - which of course he excels at. He works cheap - all he asks is for some food, a warm place to sleep and a clean litter box. Which as far as I know is not against any labor laws.