It was in the early spring of 1998; I was in the shop arguing with some guitar that didn't feel like being worked on, when there was a knock at the door of the shop. I figured it was the UPS guy - I was anticipating some parts I needed for a rush job. I walked to the door trying to figure out why the UPS guy would knock & not just bust in the door like he normally does (If you receive regular deliveries - you know what I mean) - anyway I digress. I opened the door and there was this guy standing there who looked remarkably like John Abercrombie. He was saying something like "I hope I'm not disturbing you, I've passed by a couple of times and was wondering..." - I wasn't even listening - I interrupted him - "You're John Abercrombie!"
"Well ..., yeah ..., that's right." he replied. (he seemed surprised that anybody would know who he was).
John came in and we talked for a good long while. He asked us to look at a couple of McCurdy archtops that he had, saying that everyone who had looked at these guitars could not get them to play like he really likes them to. We discovered that John's problem was that nobody seemed to take the time to really understand his playing style (more about this a John's page in the "repairs" section).
So I went over to his house. We sat and played & talked for a couple of hours so I could determine what needed to be done. I took the guitars back to the shop, did a little precision fret work on them and gave him back the guitars a few days later. He was so happy that someone finally understood his playing style. We've been doing all of his guitar work since then.
More About John Abercrombie

"Carrying the tradition of jazz guitar from Charlie Christian and Django Reinhardt to the present day is a very important aspect of my music," guitarist John Abercrombie told Jazziz magazine. "I'd like people to perceive me as having a direct connection to the history of jazz guitar, while expanding some musical boundaries which may not always involve the guitar itself."
Abercrombie took up the guitar at age 14, and by the time he graduated high school he was ready to pursue music full-time. He studied at Boston's Berklee School of Music, and began playing clubs and bars. Soon he was touring with organist Johnny Hammond Smith, and it was during this time that he met the Brecker Brothers, who invited him to join their group, Dreams. After graduation, Abercrombie moved to New York and became a highly demanded session musician, performing with Gil Evans, Gato Barbieri, Barry Miles, Chico Hamilton, and Billy Cobham, with whom Abercrombie began to attract widespread attention.
He recorded several albums with Cobham, and a short time later recorded four critically-acclaimed albums with Jack DeJohnette and Jan Hammer under the name Gateway. Abercrombie formed his own quartet in 1979 with pianist Richie Beirach, bassist George Mraz, and drummer Peter Donald, with whom he recorded three albums. He has played on all of DeJohnette's Directions and New Directions albums, and has also collaborated with Ralph Towner and Kenny Wheeler. His own trio, which, over the years, has included Marc Johnson, Peter Erskine, Dan Wall, and Adam Nussbaum, has released a number of albums, including Tactics, While We're Young and Speak of the Devil. In 1997, Abercrombie was featured in Guitar Player magazine as one of "30 tones that changed the world."
"The great common denominator in my life is the organ," Abercrombie says. "Aside from Jim Hall and Bill Evans, whose music is very lyrical, the music that always attracted me was organ trio music. Organ, guitar, drums. Hard driving music."

To Check Out Some Of The
Repair Work We've Done
For John Abercrombie,
Click Here!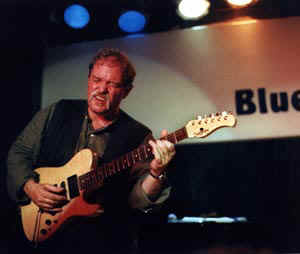 There's nobody that spins melodies like John.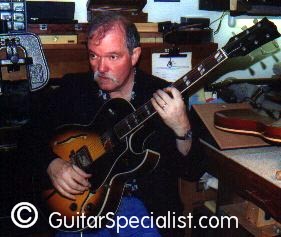 Here's John checking out his newly acquired ES175 at our shop
in April 1999.
John plays with a ridiculously low action - more on that in the repairs section. He said we were the only shop to get his guitars to play just right for him.
We re-fretted this for him for a recording he just did with Lee Konitz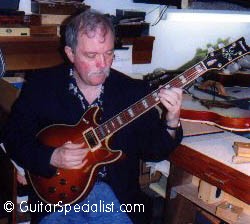 John in the shop again picking up his Ibanez (in for a re-fret & re-wire). He wanted us to get it not only to play the way he likes it (repair section) but get everything back to its original factory condition.
His comment:
"Perfect - Now I can start
playing this a lot again"
Man - Just think about how many great recordings were done with this guitar!