Updated 4/12/2021
A very difficult decision
but we're not giving up yet ...

The last three or so years has proven to be a very difficult period for the business Sharon and I have been running for 35+ years now. In addition to dealing with some significant health issues we, as many of you may be aware, had to suddenly relocate our business in November of 2018. The venture of moving an entire shop and having to build out an entirely new space from the floor up was a herculean effort. While we love our new space, we initially wound up essentially being closed for a 6-month period while building out the new shop. In February of 2019 we began taking in new work in an effort to satisfy customers calling during that time to get their much-needed guitar work into the shop. We did our best to explain that we weren't fully operational yet but would do the best we could. We were also dreadfully behind with projects on instruments that were with us since before the move. In April/May of 2019 we were finally up and running and during the remainder of that year we proceeded to slug away at our backlog as best we could and continued taking in new work albeit with longer and longer turnaround times. Closing to new work is something we've tried to keep to a minimum. While it allows for the time needed to catch up somewhat on in house projects the ultimate pent-up demand eventually puts us right back in the position where we were before closing to new work – resulting in yet longer turnaround times, etc. It's a cycle that we've found difficult to break for a considerable amount of time.

We've always considered ourselves lucky to have so many customers willing to wait for our services and willing to put up with the longer and longer wait and turnaround times and we are grateful to all of you.

Fast forward to 2020. We all know what happened. Just over a year ago as we were all still trying to figure out how to spell coronavirus in January and February, we too were trying to figure out what it meant for us. In March we got our answer. Being designated a "non-essential business" we were told to close to customers and reduce our "in house work force to zero" and after a visit by a NYS Health and Safety Inspector we were told we had to close under the threat of a $10,000 fine per infraction if caught being open or operating. We all have our own version of the nightmare that the year 2020 was. For us it meant another half a year being essentially closed. Without the benefit of any form of "PPP assistance" we did the best we could. We stayed current with the business' bills and continued to pay our new landlord and all of the other business expenses in spite of having no customers or revenue for nearly 6 months. Working remotely doesn't work so well for a luthier whose shop is not in their house. But hey, it was only "two weeks to stop the spread", after all – and then "just two more weeks" ….

During the course of the last year - when we could least afford to do so - we have been put in a position to have had to give away tens of thousands of dollars of our work to customers who have demanded to be compensated for the "pain and suffering" we have "caused them" by having their guitar in house for longer than we estimated. We have been threatened with lawsuits unless we complete repairs for free on instruments that were dropped off shortly before the covid closures in spite of the fact that those people were informed of our order to close – and in some cases by people whose instruments were not even due to be complete until later that year. We have been cursed at, screamed at, threatened and had customers show up unannounced banging and kicking on our door. Quite frankly there's nothing left – either in terms of our finances or our spirits.

When we we're finally "qualified" to "re-open" we found ourselves in a painfully familiar position but this time further behind than we'd ever been. With no other choice we just pushed forward and tried to begin where we left off. This time having to operate on a one customer at a time, by appointment only basis for all business – pickups, drop-offs, examinations, estimates, appraisals, adjustments – with disinfecting routines in between, etc. just to stay within state guidelines (but you could go to Home Depot with 500 strangers any time of day or night you wanted). The result, while we were now "allowed to be open", was less time in the shop and more time behind a desk managing appointments, waiting lists, cancellations, no shows, rescheduled appointments and the like. For the first time in 35+ years of doing this work we had no other choice but to begin keeping a waiting list. At first it seemed like a good idea to manage the overwhelming number of people trying to bring us new work – and I've never complained about having too much work, we've always considered it a blessing, a testament to our level of work and have been grateful to our many customers for their loyalty to us. We have had many wonderful customers over the years, some who have become friends. That continues to be the reason why we do this. However, that waiting list has now grown to more than 260 people and is consuming an incredible amount of our time with additional requests to be added to the wait list daily and constant requests like "how's it coming", "when can you fit me in" and inquiries about where someone's position is on the wait list and has improved to.

Well, we are now being sued by a long-term customer who has apparently decided his guitar's restoration is taking too long while all along telling me he understood the nature of all of the delays and in spite of the fact that in the interim of that guitar's admittedly lengthy stay with us we have performed and completed work on a good number of other instruments for him. The latest of which was picked up just this past December, 2020 and being informed in January that I expected his Guild to be completed sometime in March or April.

With all that said and after suffering the most challenging three years in this business that Sharon and I have run for the better part of the last four decades together we have decided that we are still not ready to give up. However, all of the above in addition to having to say goodbye to a number of family members during the course of 2020 have made us realize that we need to re-evaluate our lives and our business.

In order to manage our backlog of work and catch-up with many of the overdue medium, large and restoration projects in house we have decided to suspend the waiting list and halt all new work until further notice. I understand that many of you have been waiting for a considerable amount of time on our wait list. We have been chipping away at that list the best we were able while at the same time trying to keep ourselves from getting overwhelmed in the process. It's not working. We are grateful to all of you who have been willing to wait and have been so patient. It was not our intent to mislead anyone and we are truly sorry that we cannot accommodate you at this time.

To our customers whose instruments are still in house - please be patient with us. We are working as diligently and quickly as we can to complete the work promised on your instruments. We will continue to operate on an appointment-only basis. However, until further notice, we will only be making appointments for completed instrument pickup and courtesy period adjustments.

I am sorry for any inconvenience this and these circumstances have caused but we need to re-assess and reimagine our business so we can get back to providing the level of customer service and continue to provide the level of work our customers have become accustomed to expect from us. We are looking forward to the time when we can provide the customer service experience to you that will bring back the joy we've always had in doing this work - for us and our customers.

Musically Yours,

Doug and Sharon Proper


Updated 04/12/2021
Due to our current circumstances, we are not accepting any new work beyond what is currently in house.

To our customers whose instruments are still in house - please be patient with us.
We are working as diligently and quickly as we can to complete the work promised on your instruments.
We will continue to operate on an appointment-only basis. However, until further notice
we will only be making appointments for completed instrument pickup and courtesy period adjustments.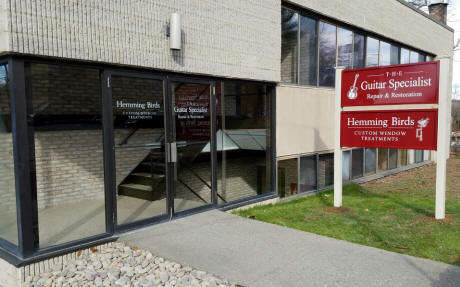 Our Physical Address Is:

380 Adams Street
Bedford Hills, NY 10507

Our Mailing Address is:

P.O. Box 405
Goldens Bridge, NY 10526

Please don't hesitate to call or e-mail us.





Our Telephone Number Is:

(914) 401-9052





Customer Service Hours Are By Appoinment Only

Closed on most major holidays
(and holiday weekends) Please call ahead.





If you are interested in sending a guitar to us for repair I am sorry , we are not accepting instruments shipped to us at this time.





If you have any questions or comments:

E-Mail Us



info@guitarspecialist.com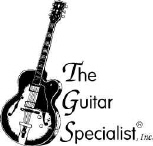 380 Adams Street
Bedford Hills, NY 10507
(914) 401-9052
© Copyright 1998 - 2019 and beyond
The Guitar Specialist, Inc. ® All Rights Reserved